A workspace for employees, too
While we support founders and entrepreneurs in Chicago, we're also here for local employees who work from home and local corporations that are currently "office optional".
Many corporations are looking for alternatives for their employees. Large office spaces are not as accessible or COVID-safe anymore, yet employees still need access at times to workspace amenities.
Mox.E is a Black-owned and Veteran-led coworking space located in the Chicago South Loop and is accessible directly from the street. With enterprise-level technology and amenities paired with a strong, diverse network of local entrepreneurs and business owners, our space may be the best solution for your company during these unusual times.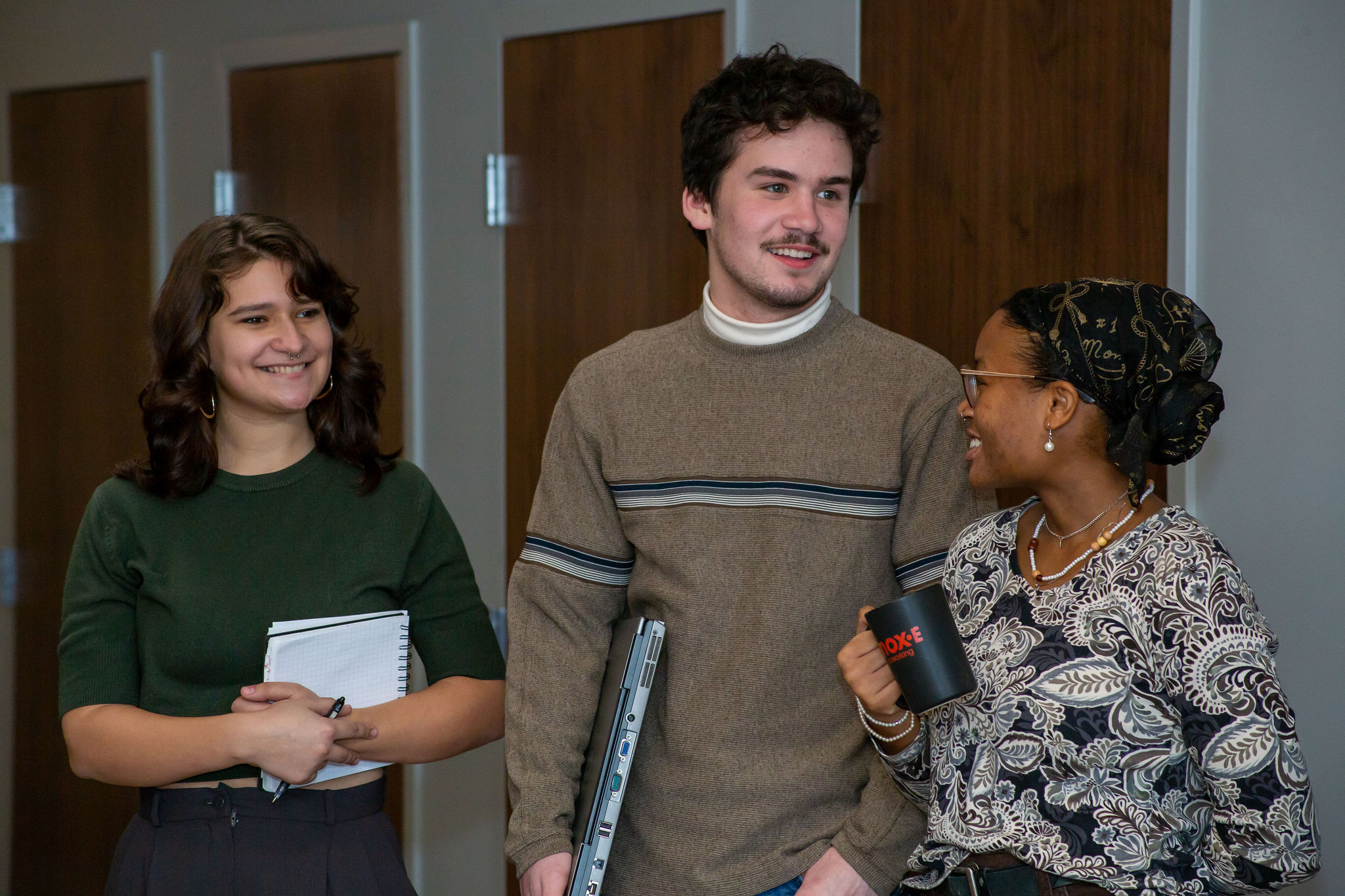 Take a look inside
Don't just take our word for it. Take a look for yourself at our beautiful, tech-savvy space that's packed with inspiring energy drawn from other driven entrepreneurs and professionals just like yourself.
Low overhead and flat rate pricing

Short term membership and office options

Networking and connection with local innovators and entrepreneurs

Positive moral of your employees

Less distractions than working from home

Access to business and professional development events and workshops

Ability to have in-person meetings in a professional environment

Access to enterprise-level video conferencing software

Increased corporate presence in local community

Integrated into a diverse work environment of Black, Latinx and Women founders

Access to a Mother's Room for nursing mothers
Daily pristine surface cleaning
Unlimited fiber-optic wifi
Keyless, smart lock access
Discount at on-site Overflow Coffee
Podcast room & microphone
Business development programming
---
Enterprise-Level Workspace
Conferencing
Cisco system for video conferencing

Speaker-tracking video cameras

Programmable touch pads to access monitors; ability to set up with any computer
Internet
Fiber optic internet

Adjustable speeds based off demand throughout the building

Speeds able to be ramp up for special events
Security
World class building camera security system

Keyless access control at entry points
A SAFE and clean SPACE
Safety and cleanliness is our obsession
We clean surfaces hourly or after every use

Members are spaced 6 feet apart in our open coworking area

Air purifiers in all private offices

All dishes are sanitized in our dish washer and not cleaned by hand

PPE and sanitization stations are set up throughout Mox.E

We comply with all city of Chicago COVID-19 regulations
Request Information
Ready to dive in? Use this form to get more information and request a tour if you'd like to visit our physical space. We can't wait to meet you.
What is coworking? Who is it for?

Coworking is where a group of individuals from a variety of businesses and organizations come to a neutral space to work. Members generally pay a monthly rate to access the space to work during business hours.

When you walk inside there is a large, open area filled with desks and tables. Those who have an open coworking membership can come into this space and sit at any available desk to work. There is a coffee and beverage bar so you can stay caffeinated and hydrated during the day.

Phone booths and conference rooms are also available for members to use to conduct meetings and take phone calls.

In the other part of the building we have private offices for businesses and organizations that want a dedicated office space to call their own

What protection measures are you taking due to COVID-19?

We are serious about ensuring the safety of our space! Every day we conduct a thorough, deep clean of the space on top of hourly surface cleaning. We have PPE and sanitation stations set up inside Mox.E. All members are required to wear masks and before anyone enters the building they must ensure they do not have any coronavirus symptoms. We also adhere to all City of Chicago COVID-19 regulations.

What kind of parking is available?

Right now there is paid street parking right outside our building in the South Loop, as well as some nearby parking garages. Parking isn't currently included in our memberships.

Does my membership include a mailing address?

In short, no. Only private offices get a mailing address and our mailbox services are included in their membership. However, if you'd like to use our location as your mailing address, you can add that to your membership at a discounted rate. Ask our staff for more details.