Press Release: Entrenuity Celebrates the Grand Opening Of New Co-Working Space And Coffee Bar in the South Loop
CHICAGO (PRWEB) FEBRUARY 18, 2021
Entrenuity, a not-for-profit business accelerator for entrepreneurs will celebrate the grand opening and ribbon-cutting of its new South Loop Chicago headquarters (1449 S. Michigan Ave.) on Friday, February 19th - 12:00pmCST. The new location will house Mox.E, a state-of-the-art business incubator and co-working space offering programming designed to increase access to business development and capital for Chicago entrepreneurs; notably Black, Latinx and women. The facility will also house Overflow Coffee, a trendy craft coffee bar serving fresh-baked pastries while jointly fostering creativity, collaboration and community. City officials including Third Ward Alderwoman, Pat Dowell are confirmed to attend.
The building holds a rich history of Black entrepreneurship dating back to the 1950s when entrepreneurial couple, Vivian Carter and Jimmy Bracken founded VeeJay Records; one of the earliest black-owned record labels. The historic significance and entrepreneurial continuum coincide with Mox.E's strong business focus; a benefit to Chicago's growing community of innovative entrepreneurs, start-ups, and freelancers.
The facility represents the future of work; a growing trend in hygiene-safe, alternative office space. Inspired by its rich history, design and architect firm Gensler customized the first-floor coffee bar with a nostalgic wall mural and records honoring the preceding owners. In Mox.E's light-filled home on the second floor, a variety of space types offer entrepreneurs the choice to build their workday with conference rooms, a large co-working area, small enclaves, and private offices.
For over twenty years, Founder and President, L. Brian Jenkins has dedicated his life to coaching, connecting and capitalizing minority entrepreneurs. "Its always been my mission to further the impact of minority-owned and led businesses throughout Chicago and abroad. I want to ensure that all entrepreneurs; especially Black, Latinx and Women find support and community, while learning from our business-growth and industry-specific workshops, leadership speaker series, start-up courses, capital-access events and more. We look forward to duplicating this model throughout the nation," states Jenkins.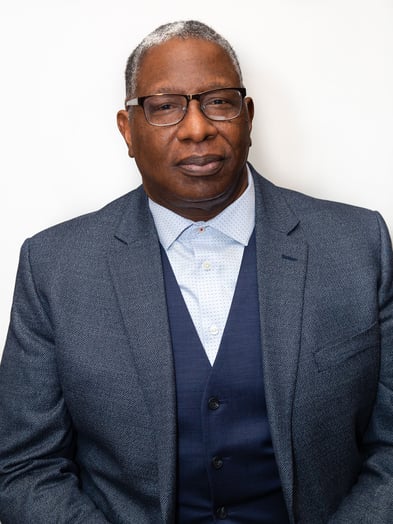 Chicago Business Leader & NonProfit Strategist, L. Brian Jenkins
City officials commend the facility opening including Vance Henry, Chief of Faith-Based Engagement, Office of the Mayor, "More than ever this city needs grassroots efforts to create and drive opportunities for minority founders and small business owners in the South and West sides. At the mayor's office we have initiatives to encourage that growth, but we rely on organizations like Entrenuity to be the key catalysts of fostering economic hope and change."
Third Ward Alderwoman, Pat Dowell adds, "As our world and greater Chicagoland continue to grow, we need more spaces in the South Loop where new ideas and opportunities can flourish. Not only is Entrenuity a Black- owned business, but their whole success model is about helping other minority entrepreneurs and small business owners grow and become stronger parts of our community. I can't be more excited to have them here."
For press and ribbon cutting ceremony inquiries, contact Hope Allen at info@livinghopeco.com or 646-504-1191. For more information on Entrenuity, visit entrenuity.com and Mox.E at moxechicago.com.
This article was originally posted on PR Web: https://www.prweb.com/releases/chicago_nonprofit_entrenuity_celebrates_the_grand_opening_of_new_co_working_space_and_coffee_bar_in_the_south_loop/prweb17735887.htm#!
---