4 Benefits of Having a Professional Virtual Mailing Address
If you have a home-based business or service company that doesn't require a brick-and-mortar location, you may be wondering if you should get a professional business address instead of using your home address.
We know plenty of business owners that operate out of their homes, especially now! COVID-19 has sent people home for work and most work-related meetings are taking place over the phone or Zoom. It may feel natural to just your home address. It's not like anyone will show up there in person for a meeting, right??
However, you may want to consider the reality that anyone with your address can search on the internet to find out what your house looks like, how much you bought it for, and other details you may be uncomfortable with the general public knowing.
While having a PO Box may be another answer for you, we think you should consider having a professional physical address for a few reasons.
What is a virtual mailing address?
A virtual mailing address is simply an address to designate as your "office," even if you don't work out that of space. The space offering the service is a legitimate business that is registered with the Post Office as a Commercial Mail Receiving Agency (CMRA). They are legally allowed to let other businesses use their address (usually with a unit or box number) as that's business's mailing address. For instance, Mox.E is a CMRA and processes all the mail for local businesses who want to take advantage of their professional location.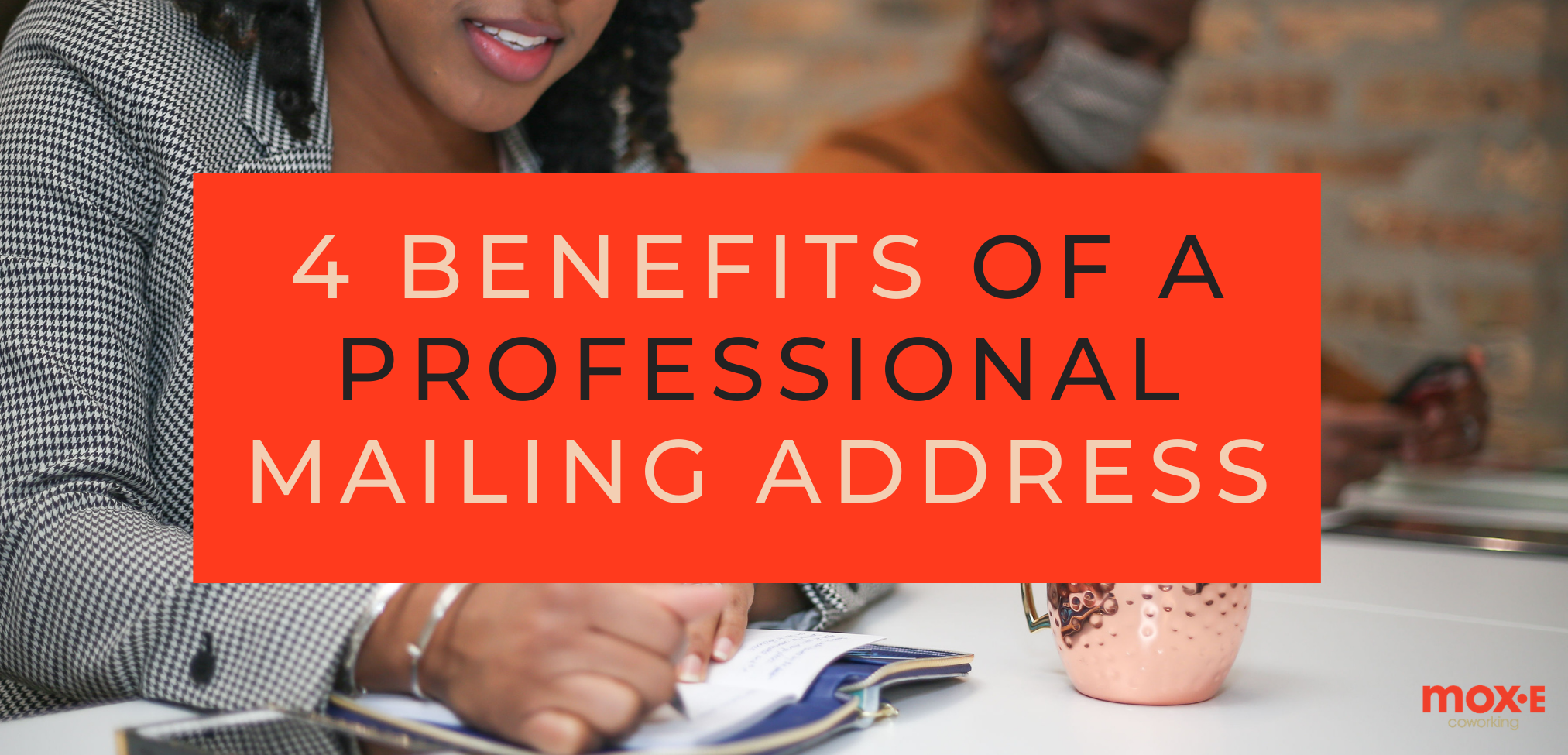 What are the benefits of having a professional mailing address?
1. It makes your business look good
Having professional image is key to maintaining trust and credibility with your customers and network. If people are even vaguely familiar with the city you are located in, they will know the difference between certain streets and parts of town. The more prestigious your mailing address (near a financial district or a recognizable street), the better your brand image. This will, in affect, make your business look good!
This is why we chose the South Loop in Chicago as our co-working location. It's near downtown and is in both an affluent neighborhood but also close to McCormick Center, a "center" for commercial activity and commerce.
We have a great address on Michigan Avenue (who hasn't heard of Michigan Avenue??) and we want to share the impact of that address with other small businesses.
2. Your virtual mailbox can be utilized in a multitude of ways
Your address will be tied to a real, physical commercial entity, not a PO Box inside a Post Office. You can also receive all types of mail (like FedEx, packages, etc...) instead of just being limited to the USPS mail.
You can also use this address for filing your corporation, LLC, tax return, or other legal processes.
Additionally, if you move away from your house, it doesn't change your business address. You can always keep the same address and not worry about having to forward mail each time you relocate.
3. You can utilize a professional document management platform for your mail
Many virtual mailbox providers will include access to a virtual platform so you can see what mail is coming in. This is a huge benefit because it means someone else is processing your mail and all you have to do is decide what to do with it.
On Mox.E's platform, every single mail item is uploaded to our customers' portal and the customer decides how they want it processed: throw out the junk mail, hold mail for pick up, open and scan, forward to another address, or sent special instructions. A platform like this not only gives you a mailing address, but also saves you time and money by taking mail processing off your hands.
Did you know that often these platforms also provide Live Receptionist and Phone Answering services? If necessary, you can expand from just using the virtual mail service to a full virtual office!
4. You have access to a professional office environment for meetings
Sometimes you will need to get off Zoom and meet in person with your team or clients. Since your address is tied to a professional work environment, it makes it a natural place to request clients to meet with you instead of a noisy coffee shop.
At Mox.E, we have several enterprise-level conference rooms to utilize, plus we have the benefit a craft coffee shop right below us. It's a win win for everybody!
And not only will you get the benefit of having access to meeting space, but in a co-working environment you will get to participate in networking events and opportunities for you to connect with other professionals.
Is a virtual mailing address for you?
You need to decide for yourself.
Do you need to maintain the safety and privacy of your home address?

Do you want to increase your brand image?

Do you need an easier way to process your mail?

Do you need access to a meeting space?

Do you want the opportunity to grow your network via networking events?
Consider these questions and decide if a professional virtual mailing address is the right thing for you.
If you are, and are interested in having an address in the South Loop of Chicago, we'd love to be the service for you! You can read more about our service and pricing here.
---